January 1, 2017
Subject: RoHS Compliance I/II
To Whom It May Concern:
The RoHS Directive, EU Directive 2011/65/EU goes into effect on January 2, 2013 which replaces EU Directive 2002/95/EC, mandating that electrical and electronic products (EEE) put in the market within the European Union (EU) shall contain restrictive levels of the following substances:
Lead (Pb)
Cadmium (Cd)
Mercury (Hg)
Hexavalent Chromium (Cr6+)
Polybrominated Biphenyls (PBB)
Polybrominated Diphenyl Ethers (PBDE)
It further goes on to define the correct way to handle any waste or by product created in the production of said products.
In 2004 we changed all of our lead frames and die configuration to totally eliminate all potentially hazardous compounds in our production to meet the current and future RoHS standards. By making those changes we maintain our compliance with the rules and regulations specified in Directive 2011/65/EU.
Sincerely,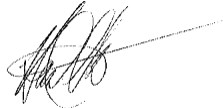 Howard E. Eckstein, President